1. What is a ghost?
Traditionally, ghosts are the spirit of a dead person. They are said to appear in a variety of ways, from invisible to the eye, to a shape one can't quite make out, to a life like vision. They are usually thought to be solitary and haunt things, locations, or people that were significant to them when they were alive.
2. What does EMF stand for?
EMF stands for Electromagnetic Field, which is a physical field that is given off by electrically charged objects.
3. Give three examples of haunted places.
The Queen Mary, also known as the "Grey Ghost," is a luxury cruise ship that is retired, and now a hotel in Long Beach, California. It is said to be haunted by some children who drowned in the pool, a sailor who died in the engine room, and a "lady in white."
The Myrtle's Plantation is an estate in St. Francisville, Louisianna. It is said to have witnessed up to ten murders and is host to numerous ghosts. One of these ghosts is a former slave named Chloe, who had her ear chopped off for evesdropping and then poisoned two of the slave master's daughters. She was then hung by her fellow slaves and now haunts the plantation, keeping her missing ear hiding under a turban.
The Whaley House has been classified as haunted by the U.S. Commerce Department and been named America's most supernatural home by The Travel Channel. James Whaley, who built the house, and his wife are said to haunt it; their presence known by perfume and cigar smoke. Jim Robinson, who was hung on the site, is also said to haunt it. Whaley claimed to hear him walking around the halls. There is also supposed to be a young girl in a long dress in the dining room.
4. Name all four of the Hogwarts House ghosts.
Gryffindor- Sir Nicholas de Mimsy-Porpington aka "Nearly Headless Nick"
Slytherin- The Bloody Baron
Ravenclaw- The Grey Lady
Hufflepuff- The Fat Friar
5. In which Shakespearian play/s does a ghost appear?
Shakesperian plays with ghosts are: Macbeth, Richard III, Hamlet, Julius Caesar, and Cymbeline. However, there are spirits in Henry VI.
6. What Muggle TV shows have featured ghosts and/or ghost hunters? Give two examples.
Two examples of television shows with ghosts are Casper the Friendly Ghost, which was a cartoon in the 50s, and Ghost Writer, which was a children's show in the 90s about a group of teens that solved mysteries with the help of a ghost that communicated with them by changing existing type around to form new words (like the type on a newspaper).
7. What is ectoplasm?
Charles Richet came up with the term ectoplasm to describe a substance or "spiritual energy" that is produced by mediums when they are in a trance. It is supposedly a gauze like substance that comes out of the medium's orifices, which spirits then drape over themselves so that we may interact with them.
8. What is the difference between a ghost and a poltergeist?
There are many differences between ghosts and poltergeists. Ghosts are spirits or dead people who don't want to leave our realm and can appear to living people in different forms. Poltergeists are forms of energy that cannot appear in a form and so will move objects around. Some belive that poltergeists are negative energy which can be controlled by the living, while others think that they are agressive souls (while ghosts are passive souls).
9. Give an example of a book featuring ghosts.
Coraline, by Neil Gaiman, is an example of a book that features ghosts. When Coraline is trapped in the other world by her other mother, three ghost children that are also trapped there by the other mother help her escape.
10. Give one fun fact you found during your searches about ghosts.
One fact I read on one of the web pages was that ghosts can smell things but are particularly fond of the smell of lemon.
Bonus: Find a picture of a ghost!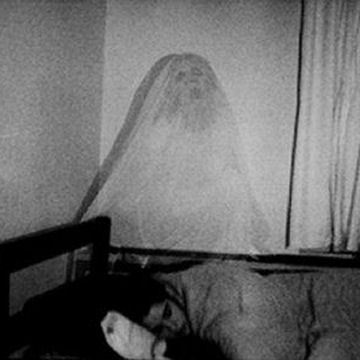 Sources:
http://en.wikipedia.org/wiki/Electromagnetic_field
http://en.wikipedia.org/wiki/Ghost
http://en.wikipedia.org/wiki/Ectoplasm_(paranormal)
http://www.time.com/time/specials/packages/article/0,28804,1855221_1855285_1855255,00.html
http://www.shakespeare.org.uk/content/view/632/623/
http://www.differencebetween.net/miscellaneous/difference-between-ghost-and-poltergeist/
http://www.legendsofamerica.com/gh-ghostfacts.html