1.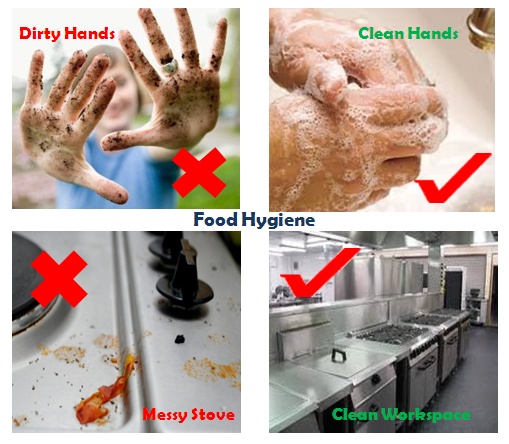 2.
Cheesey Restaurant Food
3.
How to make toast & JamONE:
Take a loaf of bread
TWO:
Cut or select a slice of bread 1cm thick (roughly)
THREE:
Make sure your toaster appliance is available and plugged into its power source
FOUR:
Insert bread into toaster and toast until golden brown
FIVE:
Remove toast from toaster and place on a plate
SIX:
With a butter knife, collect a generous amount of butter or margarine on the blade
SEVEN:
Spread margarine or butter over the toast's surface evenly, using the knife to scrape it along.
EIGHT:
Repeat with jam
NINE:
(optional) With blade of the knife, separate toast into triangles, or squares, for easy eating.

How to decorate a birthday cake
Note: decorations subject to personal taste, gender, and culture
ONE:
Make sure cake is suitably cool before starting
TWO:
get a medium bowl and pour in a cup of icing sugar (depending on the cake's size), ½ a teaspoon vanilla essence (for flavour: optional, can also use 1 teaspoon cocoa powder) and roughly 60g soft butter.
THREE:
For a bright colour, add 2-3 drops of food colouring. For this exercise, I shall use 1 drop of blue and 2 red for purple icing.
FOUR:
Mix until smooth
FIVE:
Using a scraper or the back of a spoon take icing from the bowl and spread over the cake's surface
SIX:
(Optional) For extra decoration you may add any of the following in varying patterns and styles: sprinkles, text, edible pictures, nuts, fruits, and more.
SEVEN:
Place candles (as many candles as the age of the birthday boy/girl) around the cake
EIGHT:
Light candles with a match or lighter (make sure that a responsible adult is in charge of this task)
My choice: How to make a cheese sandwichONE:
Get your loaf of bread (pre-sliced or whole, does not matter) and select/cut two slices of bread (roughly 1cm thick)
TWO:
With a butter knife spread butter or margarine over both slices of bread, one side only
THREE:
Take cheese out of fridge
FOUR:
If block cheese, cut thin slices of cheese from the block, at least two to cover the surface of the bread, and place over one buttered slice of bread.
FIVE:
If pre-sliced take one slice of cheese (removing the protective plastic) and place it on one slice, on the buttered side.
SIX:
Pile the other slice on top of the cheese, buttered side down.
SEVEN:
(Optional) Using the blade of the knife, cut the sandwich into squares or triangles.
4.